Shopping Cart
Your Cart is Empty
There was an error with PayPal
Click here to try again
Thank you for your business!
You should be receiving an order confirmation from Paypal shortly.
Exit Shopping Cart
| | |
| --- | --- |
| Posted on February 18, 2017 at 2:20 PM | |
Sometimes life can make us feel and even at times cause us to believe that we and our lives are of no relevance, of no significance that because of the current place we find ourselves that somehow God has forgotten us. Perhaps in our logical minds we, if fact, do believe that He (God) will never leave us or forsake us but the lonliness that we feel seems to be speaking louder and appear more real that the Bible verses we have memorized. Our faith is failing and we find yourself slipping into an even darker place.
Have you ever felt this overwhelming sense of 'aloneness'? I have. I know what it's like when the darkness seems greater than the Light but it really is an illusion strategically designed by the enemy to cause us to doubt not just the plan of God for our lives but His love for us. That somehow He is so busy running the universe that He doesn't have time for us, that somehow He has forgotten or even overlooked us. After all, if He hadn't wouldn't we feel His presence? Wouldn't He fix all the things that are wrong with our lives? I mean, if He really is concerned about us, if He hasn't forgotten us, right? 
The prophet Isaiah reminds us during this time that regardless of how we feel or the current state of our lives that God indeed is very mindful of us, that He couldn't forget us even if He would ever want to. You see, we - you and me -are inscribed on the very palms of God's hands! He so loves us that He etched our names, He inscribes our names upon His palms! The God of the universes got a tatoo of our names upon His palms as a sign of the eternal love and commitment He has pledged to us. More than that, our lives are always before Him.
Isaiah 49:16 "See, I have inscribed you on the palms of My hands; Your walls are continually before Me."
I get it, the darkness is real BUT never more real than God's great and eternal love for us. We just have to learn to trust that love and in the midst of adversity, especially in adversity, those are the times that by faith and in faith, that we need to declare His amazing love for us. You see, He really does have us in the palm of His hands. We can count on that. His love is unfailing and never ending!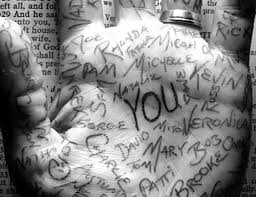 /